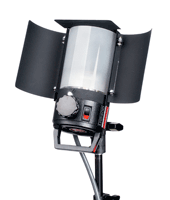 5BP
The 5BP (810722) Barn Door Blind is a special accessory used for background and accent lighting. It produces a 180° diffused "bare-bulb" quality of light, with hinged barn doors that control angle and coverage of light.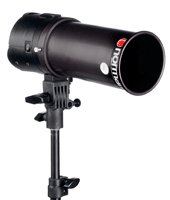 5C
The 5C (810725) Snoot adapts to Norman lampheads using standard reflector pins, tunneling the light to form a 30° spot illumination. An excellent hair light for portraiture or accent light for people or products.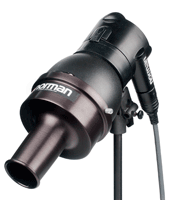 R4109-B
The R4109-B (810800) Snoot attaches to the outside of any Norman 5" reflector, including the 5DL. Commonly used as a hair or accent light, the R4109-B Snoot performs best when used with the RP1 Diffusion Dome.