LH500 Lamphead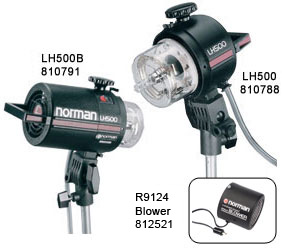 Made of high impact fiberglass resin, the LH500 Lamphead will not dent, crack or scratch. It includes a 150-watt modeling lamp, 600 watt-second flashtube, 20' cable and Friction Float Stand Adapter.

The LH500 is compatible with all Series 500 power supplies, including the P808m and P808m/TLC . It can be used with all standard Norman reflectors and light modifiers.

The LH500B is the LH500 Lamphead with a constant-speed blower. This version is recommended when using any light modifiers that restrict airflow.

When using the P808m at 800 watt-seconds the LH500+ (810789) Lamphead is required. When airflow is restricted by a light modifier, the LH500B+ (812234) with a constant-speed blower is also available.
LH52 Lamphead

The compact LH52 Lamphead is available for use with all Series 500 Power Supplies as well as the 400B Battery Portable. It includes a 20' cable, 400 watt-second Flashtube and 115 VAC outlet on the side to power the modeling lamp in the 2Q Reflector. It is also compatible with the 2D and 2D-RP battery portable style reflectors and related light modifiers.

A metal 1/4" x 20 threaded mount is on the bottom of the lamphead for attaching it directly to a camera bracket, or for use on a light stand using the R4130 Stand Adapter. A sync outlet for standard two blade sync cables is located on the side of the lamphead.